Has your site been blacklisted by Google in advance for malware threats? Now, the question is – How to secure my WordPress website or How do I secure my WordPress website. In this article, we have covered the best and simplest ways to protect your WordPress site from cyber attacks and malware.
The WordPress software has been thoroughly tested by various contributors. There are actually ways you can have a secure site. To be easy we have created a table of contents to help users navigate seamlessly from our ultimate WordPress security guide. I have some steps that can be taken to secure your site. At MyWebsHosting we believe in a security approach to risk control.
Because, with the passage of time, you may face many WordPress security issues. But by adopting these WordPress security tips, you can easily solve these problems.
Remember that maintaining the security of your website is not difficult and it can be done through some preventive measures. In this post or tutorial, we will share the 20 best tips to keep your WordPress website secure.
Why Do I Need to Secure My WordPress Site?
Currently, WordPress is the most favorite Content Management System (CMS) and used by nearly more than 40% of websites. However, as its users have grown, some anti-social cyber elements have taken notice and are trying to harm by specifically targeting WordPress sites.
No matter what kind of services your WordPress site provides, you are no exception. Your website can be damaged, if you do not take some security precautions. That's why it is important that like everything related to a website, you also need to check the security issues of your site.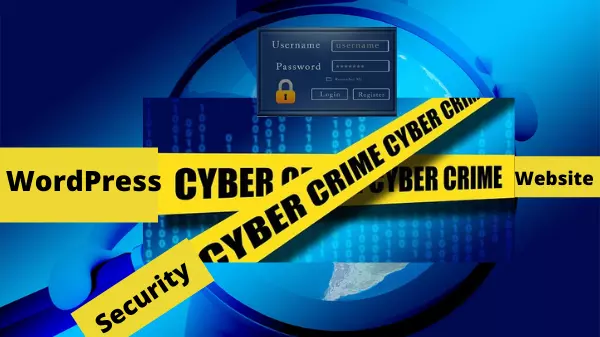 How Do I Secure My WordPress Website:–
There are several ways and techniques by using it you can easily secure your WordPress website without spending a single penny. WordPress itself has a built-in security system but users have the freedom to customize the site as per their requirements. In this process, we need an extra layer of security that can be easily applied to the website.
WordPress Security Guide 2022
Following are the different ways to secure a WordPress website:
1. Invest In Secure WordPress Hosting
When you buy hosting, don't just think about the cost, but also check their security features. There are many web hosting providers available in the market today but you should choose a reputable hosting after careful examination.
2. Use Clever User Names and Passwords
Currently, One of the biggest and most frequent mistakes is that some users are still using simple usernames like "admin," "user," "test," and " administrator." This is a small but serious mistake as it puts your website at high risk of DDoS or brute force attacks.
Various studies claim that cybercriminals try to exploit the platform and that 80% of unauthorized logging attempts use usernames "admin" – so I personally recommend not to use it.
So, make sure you use a unique "username" and "password" for your WordPress site. In fact, it is really helpful in enhancing my website security.
3. Use the Latest PHP version on the Site
We highly recommend using PHP 7.3, 7.4, or the latest version 8.0 to improve the website security and performance of your site. When you use the latest PHP version for your WordPress website it not only adds new layers of security features but also improves performance and website speed.
4. Limiting Login Attempts
Some rogue elements try to log into your site repeatedly, so to prevent this, with the help of a plugin, you can limit the number of failed login attempts per user. Wordfence and Sucuri are the best WordPress security plugins that you can use to enhance the security of your website.
For example, you can temporarily lock or block a user after 3 failed attempts using the settings option of these plugins. Let's say if someone has more than 3 failed login attempts, your site (plugin) blocks their IP for a temporary period depending on your settings.
Today, Wordfence and Sucuri are the best WordPress security plugins you can use. I highly recommend the Wordfence WordPress Plugin as I personally use it to secure my website MyWebsHosting.com. Although it has a free version, it still offers many security features.
5. Disabling XML-RPC
Basically, XML-RPC features on a WordPress site are an API or "Application Program Interface" type of feature that allows users to access and publish content via mobile devices. It is used by software developers who create desktop apps and mobile apps and more services with the ability to communicate with your WordPress website.
So, there are two ways to disable the XML-RPC function first using a plugin or disabling the function manually. We recommend using the Disable XML-RPC Pingback plugin to make this work. Because it will automatically turn off some XML-RPC functionalities, thus preventing spammers from performing attacks using this protection.
But it also has some disadvantages like if you deactivate the XML-RPC service on your WordPress, you may lose the ability for any application to use this API to communicate to WordPress. So make sure you use this service carefully.
6. Install SSL Certificate
When you install SSL it is protecting data and client-server communication. It also affirms your identity and improves customer trust as a result your site gets a better search engine ranking.
In addition, it protects data and client-server communication when you install SSL. It also verifies your identity and improves customer confidence resulting in better search engine rankings for your site.
All Websites with SSL certificates will use HTTPS rather than HTTP, so they are easier to identify.
7. Keeping the Site Updated
You should upgrade to the latest version of all plugins, themes, WordPress, and PHP software on your site as soon as they become available.
8. Lock down your WordPress admin
There are other ways to improve website login security by locking your WordPress admin area. There are two effective ways to do this, firstly limiting website login attempts and changing your default wp-admin login URL.
Your WordPress site login URL is domainname.com/wp-admin by default. One problem with this is that all bots, and cybercriminals, know this. When you change the URL you can make your site less of a target and effectively protect yourself from many brute force attacks. If you want to change the WordPress login URL, we recommend that you use the free WordPress plugins, but make sure to choose a unique URL name.
In addition, you can limit logins Attempts to impose a limit, and duration can also be very effective in securing your site.
9. Using.htaccess for better Security
On your WordPress website, the .htaccess file ensures that WordPress links function properly. Because without this file declaring the correct rules, you will get lots of 404 Not Found errors on your website. In addition, the file can help you secure your WordPress website even more.
In addition, .htaccess enables you to block access from particular IPs or disable PHP execution on appropriate folders. Correct use of .htaccess really hardens your WordPress security.
10. Use Secure Admin Login Credentials
Use secure administrator login credentials that are unique and difficult to guess instead of using "admin" and "your name".
11. Changing the Default WordPress Database Prefix
Your site server database holds and stores all vital information required for your website to work. Therefore, anti-cyber elements often target the database with SQL injection attacks. In This method, they inject malicious code into the site database and can bypass the WordPress security system and recover the database content.
A study has shown that SQL injection comprises 80% of cyber attacks conducted on WordPress sites, making it one of the biggest threats. Many users face this type of attack because they forget to change the default database prefix wp_.
12. Always Use Trusted WordPress Themes and Don't Use Nulled Themes
Always use a genuine WordPress theme for your website and we highly recommend that you should not use the Null theme. This is because it may contain malicious script or code and you may not get regular updates in it.
Currently, many websites on the internet provide nulled or cracked themes to users. But you should not use a nulled or cracked theme because is a malicious version of a premium theme, available by illegal means.
These types of themes are also very dangerous for your site. Because they contain hidden malicious code that can damage your site and database or wrongly log your administrator credentials.
Although it may save you a few bucks, it can cause huge damage to your site later, so always avoid null themes.
13. Use the Latest Version of WordPress Plugins and Themes
Nowadays users use different types of plugins on their site but you should make sure to use the latest version of WordPress plugins and themes.
14. Backing up as Frequently as Possible
Back up as often as possible because it increases the level of security. You should back up your site regularly so that you can recover it back if your site crashes, collapses, or loses data due to some unfortunate event.
15. Enabling Two-factor Authentication
When you enable two-factor authentication to fine-tune the login process on your WordPress website. This two-factor authentication method combines a second layer of WordPress security to your site login page, as it requires you to input a different code to complete the login process. The unique code is only available to you via text message or a third-party authentication app.
There are two ways to enable two-factor authentication on your WordPress site, install a login security plugin such as Wordfence Login Security, and in addition, you will require to install a third-party authentication application like Google Authenticator on your smartphone.
16. Disable File Editing in WordPress
When you set up a WordPress website, on the dashboard there is a code editor option that allows you to edit plugins and themes. You can access it by visiting Appearance > Editor and the second way you can find the plugin editor is under Plugins > Editor. Whenever your website is live we suggest that you disable this function or feature.
This can be easily done by adding or pasting the following code in the wp-config.php file.
define('DISALLOW_FILE_EDIT', true);
17. Install a WordPress Security Plugin
You need 24/7 security for your website, so it always requires an active security monitoring system. But if you do it manually it is a time-consuming task. There are many WordPress plugins available that can do all the security work for your site automatically.
To improve WordPress security you need to install and activate security plugins like Wordfence and Sucuri.
18. Automatically Logging Idle Users Out
Sometimes users forget to log out of the WordPress website and leave their session running, which allows other people to access their accounts and potentially misuse confidential data. This happens when you are using a public computer in an internet cafe or other public places.
Therefore, it is essential to configure your WordPress website to automatically log out inactive users. The easiest way to automatically log out an inactive user is to use the WordPress security plugin.
19. Hide the WordPress Version
Spammers can enter your site very easily when they know which is the current version of WordPress you are running. In that case, sometimes they can use that version's exposure to hit your site if you are still using a WordPress older version. It is easily possible for you to hide information from your website using the WordPress theme editor option.
20. Remove unused WordPress Plugins and Themes on the Site
Today we use many plugins on our WordPress website. Many times it happens that we install many plugins and themes. But many unused plugins and themes in them not only occupy the storage of your site but can also become a threat to security. So we suggest that you remove all unused themes and plugins on your WordPress website.
Is WordPress Safe?
Yes, WordPress is a completely secure platform to build a website. It is the most widely used and popular CMS across the world. WordPress is used by about 40% of websites worldwide. It has many inbuilt security features that provide complete security to your website as well as add additional safety measures to it.
Conclusion
In this article, we have covered solutions to the most frequently asked questions like – How do I secure my WordPress website and Why do I need to improve the security of my WordPress site.
WordPress security is the backbone of a website. If you do not manage your WordPress security, cybercriminals can easily attack your website. We assure you that maintaining the security of your website is not difficult and it can be done without spending any money. In this post, some of the solutions can be easily implemented by every user, and only a few of them are for advanced users.
Overall WordPress is one of the most popular, secure, and used CMS but there are some other WordPress vulnerabilities as well which need to be rectified by the user in many ways.
Also Read:
Google Cloud Credits For Startups