Cloud computing business ideas help the entrepreneur to plan, execute and exploit opportunities to start a cloud computing-based business. It is absolutely true that the Cloud is the cornerstone and there is a bright future for all online or Internet-based businesses.
Cloud computing is an innovative way to access compute and storage systems without actually having to have and actively manage resources. However, cloud computing services provide users with a wide range of options for storage, networking, power hosting, and artificial intelligence, as well as standard business applications.
Cloud computing is becoming the default choice for many startup apps and online tools these days. Cloud innovation ideas help entrepreneurs to start cloud-based businesses primarily for those who always want to be ahead of others.
There are mainly 3 types of cloud computing:
| | |
| --- | --- |
| 3 Main Types of Cloud Computing | Meaning Of IaaS, SaaS, and PaaS |
| Infrastructure as a Service (IaaS) | IaaS hosts the infrastructure on the public cloud and private cloud rather than a traditional on-premises data center. |
| Software as a Service(SaaS) | SaaS as a service is a way of delivering applications over the Internet and instead of installing and maintaining software applications, you can easily access them through the Internet. |
| Platform as a Service(PaaS) | PaaS is a cloud computing model where a third-party provider distributes all software and hardware equipment to users over the Internet. |
Cloud-Based Computing Business Ideas
Cloud computing is still an emerging field and has immense potential to grow. The use of cloud computing in business continues to grow. Currently, as many enterprises are shifting their business to cloud-based platforms and this has been made possible due to a huge market, there are various cloud service providers such as Google Cloud, Amazon Web Services, Microsoft Azure, IBM Cloud, Alibaba Cloud, Oracle, etc. are providing their services. They are competing among themselves to capture more and more cloud markets.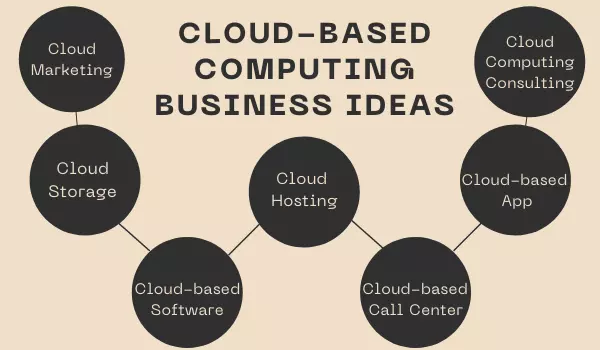 How To Start Cloud Computing Business
You have several options for starting a cloud-based business. This is a field in which there is continuous growth, so this is the perfect time to start cloud-based startups. Here are the following cloud innovation ideas you can use to start a cloud-based service or business.
Cloud Computing Business Plan:
1. Start a Cloud Consulting Business
A cloud consultant provides advice, solutions, services, and guidance to businesses that need to move their data to cloud storage. You can conduct formal courses to bring in individuals and rapid instruction on new protocols for organization, security, and storage when you start a cloud consulting business.
You can start a cloud consulting business by following these important steps:
Organize and plan your cloud consulting business first.
Build your cloud consulting business into a legal business entity, such as a corporation or LLC, which protects you from being personally liable if your cloud consulting business is sued by someone.
After that, you'll need to register for several state and federal taxes before you can open for business.
Then open a dedicated business bank account and credit card accounts that are necessary to protect personal assets.
Now you need to set up business accounting. Recording your various expenses and sources of income is vital to analyzing the financial performance of your business. Furthermore, having accurate and detailed cloud business accounts simplifies your annual tax filing.
You must obtain the necessary permits and licenses to run your cloud-based business as failure to obtain the required permits and licenses can result in heavy fines, or even closure of your business.
It is advisable to obtain business insurance to strengthen your company's financial security in the event of loss and you need insurance to operate your business safely and legally.
Now focus on building your cloud business into a brand and a strong brand will help your business to stand apart from the competitors and how your business will be perceived by the public, definitely have a good image.
The final and next step is to create a website and set up your business phone system for your business. It helps you and makes it easier for potential customers to find you and contact you.
2. Set up a Cloud Marketing Business
Cloud-based marketing is an organization's effort to market its goods and services online through corporate digital experiences, whereby they are unique to each end-user. Meanwhile, the concept of cloud marketing has developed thanks to the fast growth of Internet services, and a community that has become more mobile-ready in terms of data consumption and engaging in two-way interactions with brands.
Therefore, cloud marketing is a change from more traditional forms of marketing done through television commercials, print publications, and radio advertisements.
Cloud computing use in marketing:
Cloud ERP
Lead tracking
Inbound marketing
Tools and applications integrated into the cloud can be accessed from anywhere, anytime.
Sales cycle management keeps track of what happens during all sales life cycle phases and revises buyers based on their need or demands.
Marketing automation uses software to automate tedious marketing tasks. Businesses can automate repetitive tasks such as email marketing, and social media marketing or posting.
3. Cloud-Based Presentation Software and Apps
Online presentation software or app is a cloud-based platform where users can log in and create and edit presentations in the cloud via the Internet. Meanwhile, presentation software is a cloud-based application that allows the user to present information to the audience using multiple multimedia formats such as video, images, audio, and text. Some online presentation software has unlimited file sharing, unlimited sizes, and advanced tracking and analysis.
Some of the best presentation software tools are:
Prezi
Visme
FlowVella
Haiku Deck
Google Slides
Apple Keynote
4. Start a Cloud Monitoring Service and Build Tools
Cloud monitoring is the process of monitoring, evaluating, observing, tracking, and managing various cloud-based applications, infrastructure, and services. Furthermore, it is the way to control, manage, and review operational workflows and processes within a cloud infrastructure.
5. Start a Cloud IT Software Engineering Service
Cloud-based software provides the solution to several organizations and startups to enhance their productivity and improve their businesses performance at an affordable cost. You can develop service-oriented IT software that integrates the best features of both services and cloud computing paradigms, providing multiple benefits for software development and applications.
6. Become a Cloud Computing Software Engineer
A cloud software engineer is a qualified professional and individual who specializes in cloud computing and is in charge of many of the technical duties that are associated with cloud computing, which may include planning, management, design, maintenance, and service support.
They are also responsible for setting up a business infrastructure and shifting various functions to a cloud-based system, which are in high demand nowadays, as currently, more companies move their critical business functioning and applications to private, public and migrate to hybrid cloud infrastructure.
Final Thoughts: The Future of Cloud Computing Based Businesses
Cloud computing is an emerging field and helps businesses to grow and achieve their business objectives. Companies are looking for new ways to increase their income and this can be possible with the support and use of cloud computing. It is powerful and futuristic and is going to grow in the near future and provides various benefits to the entrepreneur.
Also Read: