what is a Yep search engine? SEO toolset provider Ahrefs has been looking to do this for the past several years, and has announced plans to build its own search engine in 2019, eventually launching its new search engine in 2022.
Ahrefs has been busy developing its search engine for these three years, and has also invested heavily in this project. It is estimated that Ahrefs has invested $60 million of its own in launching a new search engine called Yep.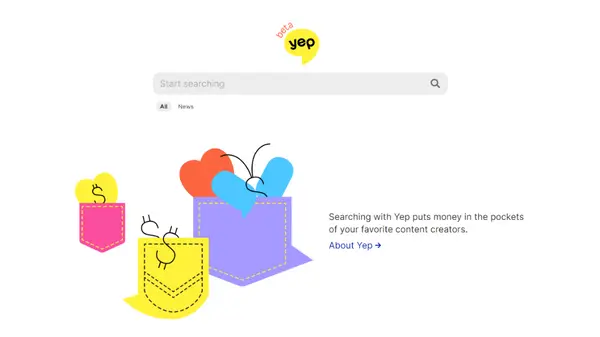 What is Yep Search Engine? 
Yep is a general-purpose web search engine developed by Ahrefs and a popular SEO tool that people use to get higher Google rankings. According to the official Ahrefs site, the Yep search engine will soon be available in all countries and in most languages.
Yep Search is the brainchild of Ahrefs CEO Dmytro Gerasymenko and was embodied by the Ahrefs team. SEO player Ahrefs runs an Internet-scale bot that has been crawling the entire web 24/7 since 2010, storing, indexing, and structuring petabytes of information. With this data, they have built one of the leading SEO toolsets around the world.
Why is it named Yep Search Engine?
However, Ahrefs has pointed out that the name Yep, has no special meaning. Yep first came when the search engine developer team was watching an avatar cartoon with kids and Aang and some of his friends used "yip yip" to take off their bison.
It was a daunting task to choose the name of a new search engine that would compete with Google and Bing. For this, the Yep software developer team at Ahrefs has vetted and tested hundreds of ideas over the past two years.
Initially, the Yep search engine team considered going with Fairsearch.com, but later the name Fair.com was almost agreed upon. They expected it, but unfortunately, they didn't get Fair.com. In such a situation, when the name yep.com came up in front of the team, everyone unanimously agreed to it. The reason for this was short, the name is easy to remember as well as SEO friendly and easy for the user to memorize.
Yep Search Features
In order to compete with Google, AHREFS has tried to incorporate many new features in the YEP Search Engine some of which are described below, let's see how successful it is in this task.
1. Advertising And Revenue-Sharing
As per Ahrefs' YEP search engine plan, it uses a 90/10 revenue sharing business model where ahrefs will share 90% of the advertising revenue directly with these content creators or publishers.
Nowadays, Google answers a lot of questions by directly displaying the content in its search results to the user without actually clicking on the website. Due to this the traffic of websites is decreasing and this means for many sites, less traffic means less income.
However, right now, there are no proceeds to share. Ahrefs said that when we are happy with the quality of the search results, ads and revenue share will be added.
"The Yep business model motivates individuals from all walks of life to share their unique knowledge, and pushes for high-quality content to fill every page of search results."

Yep Search Engine
2. Privacy
Yep, SearchEngine doesn't collect or share any of your personal information e.g., name, age, gender, or location. They will not try to figure out who you are and will not store user search history anywhere.
Yep does not use any third-party search indexes to power their search service. That means Ahreft yep search do not share your search query with any 3rd-party service.
Also, Yep search does not use cookies by default. If you choose to change your settings, only then will your device cookies be used to store those specific changes.
In short, Yep search engines do not store users' search history, user-agent strings, or IP addresses. Ahrefs use aggregated, non-personalized search data to improve search algorithms, for automatic spelling correction or search suggestion purposes, and for overall statistical analysis.
In other words, Yes Search clarified that specific data on searches is to be saved, but never in a personally identifiable way. For example, they'll track how many times a term was searched or the position of the link that gets the most clicks. But they will not make your profile for targeted ads.
3. Improve The Quality Of Search Results
The Ahrefs Yep team said that creating a great search experience is their top priority and they are working on it.
Their main focus is to improve the quality of search results for text search, image search, local search, and news.
How ahrefs Yep Search Engine Works
Search engines Whether it is the big ones like Google and Bing or the new search engines like Yep, what really matters is the search quality. This means that if yep is to be successful it has to meet the needs and requirements of the explorers.
1. Crawling
Yep, the search engine collects data from websites, or blogs, using AhrefsBot. Ahrefs revealed its plans to replace AhrefsBot with YepBot in the "near future" in the coming years.
Ahrefs states that currently, AhrefsBot visits more than 8 billion web pages every 24 hours, making it the second most active crawler on the Internet after only Google. Popular SEO tool AhrefsBot has been crawling the web for over 12 years and they were using AhrefsBot data to power their link database and SEO insights.
2. Indexing
Generally, the Yep search index is updated every 15 to 30 minutes and on a daily basis, the Yep company adds 30 million web pages and drops 20 million.
3. Ranking
The most complex task for any search engine is to rank the website, if it fails to give quality search results, then the search engines also fail to impress the people. Let's know, how does Yep measure the quality of its search results? According to the developer team, the results should be relevant and helpful to the user.
Ahrefs Yep Ultimate Aim And Vision?
"Our aim has always been to build good products faster than the giants and avoid feeding them endlessly by leaving money in the community."
The Yep business model inspires content publishers to share their unique knowledge and create high-quality content for search results.
Google Vs Yep
Google is the biggest player in this area while yep search on the web is a nascent baby. They have a long way to go to compete with Google and Bing.
Is Yep Good Alternative?
There is no harm in using Yup as a new search engine, but right now the Google search engine is the biggest player on the web.
People use Google search not because of its name and fame rather they are using it for high-quality search results. This is the secret of Google's success. This is just the beginning for yep, it will be known in the coming years how successful it is.
Yep Alternatives
To Conclude
In the final analysis, we can say that yep search engine is offered by ahrefs which is a leading and trusted SEO tool. So we should take some time to test the performance of the new search engine.
Read Also |
How to choose SEO friendly domain name?