Everyone loves Minecraft today and there are tons of options available, both free and paid. We've checked and tested various Minecraft hosts and compared them and write Aternos Hosting reviews. So especially that which saves more your time and resources. In this article, we tried to find out if – Is Aternos safe to use or there is a problem with it.
However, Aternos offers Minecraft servers completely for free. Minecraft is the most popular game for people all over the world, which also connects them together. Aternos believes that it should be possible for everyone to play Minecraft with their friends for free so it offers it at no cost.
Aternos Review: Is Aternos Safe 2023 (Aternos Server Hosting Review)
Aternos Hosting is a completely safe, secure, and legitimate website to use. When we used it, we found and experienced that, there were no major problems with its servers, the uptime was excellent and each Minecraft server is guaranteed DDOS protection to thwart attacks.
This means you never have to fret that anytime your Minecraft world will be lost or crashed.
The Aternos server works exactly like any other paid Minecraft server available, and it takes a few seconds for your server to be set up and working in order to start playing.
After the signing up process, you will receive a confirmation email notifying you when it is ready. Once you have completed all the setup, you are free to play Minecraft and connect/ add your friends/ other people/ whatever you want.
About ATERNOS
Aternos Hosting is a leading player in providing users with on-demand Minecraft game servers. It is physically based in Bonn, Germany, Aternos has been providing services for millions of Minecraft players worldwide since 2013. Although it is completely free, so funding is done only with the earnings from ads, at no cost to the user.
| | |
| --- | --- |
| Aternos | Facts |
| Providing Services | Since 2013 |
| Headquarters Location | Bonn, Germany |
| Core Services | Minecraft Server |
| Cost of Services | Free |
| Registered Users | 50,000,000+ |
| Daily Players | 1,000,000+ |
| Largest age group (67%) | 18 – 24 Years |
| Largest gender group | 80% Male |
| Top User Country | USA, France, Germany, Poland, Russia |
| Source of Income | Advertisements |
What Is Aternos Hosting?
Aternos hosting is one of the most commonly used platforms that provides Minecraft free servers so that users can run their own network. Here, Everything is free, from the plugins to the Ram on offer.
Of course, the company also has a motto: Minecraft Servers – Free – Forever.
This signifies that Aternos will be free as long as Minecraft is free.
There are currently about 1 million users and 55,225,432 gamers (users) who use Aeternos every single day, and the server has been working since 2013.
Is Aternos Safe To Use
If any hosting platform like Aternos provides you a free Minecraft server then before using it everyone wants to know whether Aternos is safe, legit, and secure.
Because no one wants to use that hosting service without any security assurance, even if it is available for free. However, it does not pose any security-related issue in the case of Aternos Minecraft Server, as it is completely secure and legal to use.
If you are hesitant to use Aternos but we assure you that here your Minecraft server is fully protected from DDoS, keeping you safe from attacks.
We've used and tested it over the past few months and in our own experience, we didn't face any issues and didn't feel like it was compromising our game servers, uptime was excellent and every Minecraft server DDoS protection is guaranteed to thwart attacks.
However, in case anything goes wrong, Aternos provides automatic backups to your Minecraft servers. So, you don't need to worry about the data loss of Minecraft world.
Is Aternos Minecraft Server Legit
Aternos is a completely legit and secure Minecraft hosting server provider. The main reason Aternos seems to be a legit company is that it is used by millions of users worldwide, and they are a registered company. Also, Aternos server provides DDOS protection which makes it a good hosting server.
How To Use Aternos & How Does Aternos Work
Aternos gives you complete freedom to set up your own personal Minecraft server, where you can play all day and all night with your friends/ colleagues.
How To Start Up An Aternos Server
The Aternos server works just like any other paid Minecraft server, and it only takes a few seconds for your server to be up and running to get started. After signing up, you will receive a tailored email notifying you when it is ready. Once you have completed all the setup, you are free to play Minecraft and join/add your friends/ other people/ whatever you want.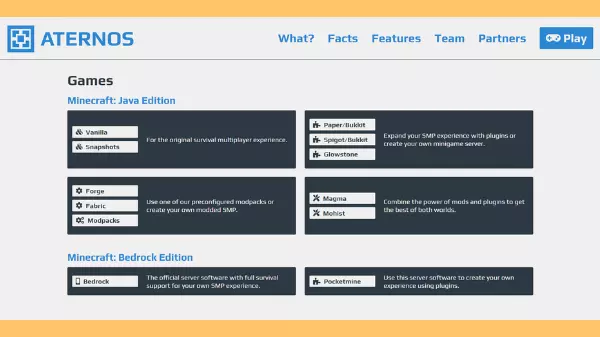 Aternos Features
Despite being a completely free Minecraft server hosting platform, Aternos offers a wide variety of features to the users. It also includes:
1. Custom Worlds
Here you can easily create adventure maps, parkour, or the latest minigames with the help of blocks. Even, you can upload any world you want to play with whenever you need to.
2. Add Mods & Plugins
If you found vanilla boring for you, you can add plugins at any stage, and play with your favorite mods or for your own experience using one of the many pre-configured modpacks can.
3. DDOS Protected
However, Aternos provides free services for your Minecraft server as well as completely DDoS protection to keep you safe from any potential attack.
4. Fully Customizable
Your gaming server is fully customizable and you can tweak it as per your need. If you want, adjust everything on your server the way you like it and make it your game.
5. Automatic Backups
Even though Aternos is a free Minecraft server, you always have a backup of your server, just in case you need it.
6. Outstanding Support
There has been no reduction in its customer support services. Support is the same as paid hosting services even if there is a free server.
Aternos Development Journey That Leads It to Success
| | |
| --- | --- |
| Aternos | Facts & Figures |
| First development & Idea | April 2013 |
| First edition/ version released | 1 May 2013 |
| 1 million users registered worldwide | 10 June 2015 |
| Foundation of the Aternos UG (haftungsbeschränkt) | 13 December 2016 |
| First full-time position | 7 July 2017 |
| New (current) panel released | 4 August 2017 |
| Transfer to a dedicated office / second full-time position | 1 July 2018 |
| 10,000 players online at the same time | 2 February 2019 |
| Hiring Domi & Kurt | 1 May 2019 |
| Conversion to Aternos GmbH | 24 October 2019 |
| Moved to a new office | February 2020 |
| Hiring Julian | May 2020 |
| Release exaroton | 30 July 2020 |
| First trainee as developer | August 2021 |
| 50 million registered users worldwide | 10 September 2021 |
| Hiring Dominik | October 2021 |
Is Aternos Trustworthy To Use?
We have been using it for a long time and in our own experience, we had no problems compromising our servers, didn't face any uptime issues, but the truth is it was excellent and worked well for every Minecraft server. DDoS protection is guaranteed so that attacks fail, Aternos Hosting is safe, secure, and legitimate. So without any worries, you can use it, but make sure to follow the basic safety guidelines.
Which Is Better Minehut or Aternos?
Personally, I found Aternos to be better when you run a public server, and its "infinite" player slot options, unlimited plugins, and regular backups are really impressive. However, for SMP, they do not score much as the later games will be very crowded. Therefore, it lags.
MineHut is preferable to SMP because they are freemium, which means they get more money than Aternos. Thus, MineHut can handle more game aspects for less lag. Minehut for public servers, however, not so much. You can get up to 20 player slots without paying anything.
In short, Aternos is good if you want to run servers that play with strangers, while MineHut is better if you only want to have servers to play with friends. I tried both, and am happy with them both, don't get confused. It is up to you which one you prefer as each has its own advantages and disadvantages.
Here is the article to read more on Minehut vs Aternos.
FAQ
Is Aternos Good?
Ans: Aternos Hosting is a really good service as well as it is free when you use it you will also know that it is completely safe, secure, and legit to use. It includes all the basic features like excellent uptime, regular backups, and DDoS protection, so there's no need to worry when you run your Minecraft server.
Should I use Aternos?
Ans: Yes, you can use Aternos without any problem because it is completely safe, secure, legal, and it doesn't require you to spend a single penny plus it includes all the basic features to run a Minecraft server.
Does Aternos Cost Money?
Ans: Absolutely no, Aternos offers its users absolutely free services. The company assures that they are always free, and its Minecraft servers will be free for all at any time.
How Many GB Ram Is Aternos?
Ans: On Aternos Hosting, each user server is limited to 4GB of storage space for technical reasons. Whenever you reach this limit, you are not able to start your server for some time.
How Many Players Can Aternos Hold?
Ans: There is no player limit when you play in Aternos. But keep in mind during the game, that the more users play on your server, the more resources your server needs. As a result, your server will crash sooner or later in combination with plugins and the world.
Where Are Aternos Servers Located?
Ans: Aternos servers are located in Europe, which can lead to high ping if you live too far from Europe. Currently, the entire Aternos system is hosted in Germany. They don't have servers in other locations, so all Aternos servers are connected in the same way.
Does Aternos work with TLauncher?
Ans: Actually, TLauncher has many issues connecting to Aternos servers because it removes essential and basic features from Minecraft. Our recommended solution is to not use TLauncher. You probably get a connection timeout error when using TLauncher, it could look like this:
"io.netty.channel.AbstractChannel$AnnotatedConnectException:
Connection timed out: no further information:"
But if you really want to use TLauncher, you'll need to connect using the address and port of your Minecraft server. If anyone is interested in more information on solving problems with TLauncher then visit the official aternos support site.
Does Aternos Steal Your Data?
Ans: Absolutely no, Aternos does not steal your personal data. However, the Aternos Privacy Policy states that each request to their website is stored and captured for 24 hours only and the URL, session ID, IP address, Cloudflare Ray ID & country code provided by Cloudflare are stored. Meanwhile this data or information is only used for solving problems, protecting against any malicious attack, and detecting it in a timely manner.
Is Aternos Legal in All Countries?
Ans: Aternos is legal or legitimate in all countries, so no matter what part of the world you live in, you can use it freely. Also, Aternos Hosting is widely popular among global users and it is completely safe and secure to use.
Is Aternos Safe To Download?
Ans: Yes, Aternos Minecraft Server is completely safe to download as it is fully DDoS protected. It keeps you safe from all malicious cyber attacks.
Q. What is Aternos GmbH?
Ans. Aternos GmbH is one of the leading and most popular providers of on-demand Minecraft game servers.
Conclusion Of Our Aternos Review: Is Aternos Safe And Reliable?
If we compare Aternos with other available alternatives, we found it to be a reliable option for anyone who wants to operate a free Minecraft server to run it. However, when we get free services, the first question that comes to our mind is – Is it safe to use Aternos?
But after reviewing Aternos, we come to know that it is completely safe and secure for all. Because it includes all the necessary security features to be able to fully secure your free Minecraft server.
Also Read: