Microsoft Edge vs Firefox: Recent Data Shows That – Microsoft Edge may soon overtake Safari and become the second most popular browser.
The name of the Microsoft browser is Microsoft Edge and it has replaced the former Microsoft browser Internet Explorer. Today if we compare it with any other big player after Google Chrome, it is Mozilla Firefox as it is the main rival of Microsoft Edge. Remember google chrome is still the top and most popular web browser on the internet.
According to recent data obtained from web analytics service StatCounter, the Microsoft Edge browser is now used on 9.54 percent of desktops worldwide, just 0.3 percent behind Apple's Safari, which stands at 9.84 percent. But market leader Google Chrome still holds the top spot with 65.38 percent, with fellow challenger Mozilla Firefox now trailing with 9.18 percent.
In this article, we'll compare the Chromium-based Microsoft Edge to the Mozilla Firefox browser in terms of usability, performance, portability, privacy, and data security, to help you understand which web browser best suits your needs and preferences.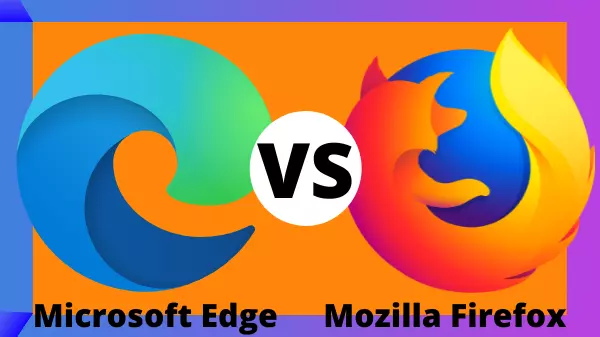 Microsoft Edge vs Firefox: Comparison of Firefox Browser with Microsoft Edge
If we compare Microsoft Edge and Firefox browsers, then both have their advantages and disadvantages. Some users prefer to use Firefox and while some prefer the new look, feel, and features of Microsoft Edge. In addition, Microsoft vs Firefox comparison, both have a large number of add-ons and extensions available. Users can easily download it from its official website. Edge's compatibility with Google's Chromium platform benefits from its rapid development.
Comparison of Firefox Browser with Microsoft Edge
When Microsoft introduced their popular OS at the time, Windows 10 and Windows 11, they also introduced their new Edge browser to compete with Google Chrome and Mozilla Firefox, making it the default browser already installed on millions of PCs.
Initially, only a few people started using it because most of the users used to use Chrome. So when Microsoft also announced plans to eventually replace the Edge browser as a Chromium-based web browser, remember that Chromium is Google's open-source browser project.
However, users were slow to adopt the Edge browser, and from January of 2020, Microsoft's Chromium-based Edge replaced and relaunched previous versions of Edge. To improve its accessibility and performance, a new version of Microsoft Edge is built on 'Chromium', which has several innovative and unique features that differentiate it from the popular Chrome web browser.
Latest Microsoft Edge features include:
Organize your tabs.
Save, organize, and share content in a snap.
Easily capture and mark up screenshots.
Group and collapse your tabs to organize your content.
Mozilla Firefox, simply known as Firefox, is a widely used free and open-source web browser developed by the Mozilla Foundation and its subsidiary, Mozilla Corporation. In addition, the Firefox web browser uses the Gecko rendering engine to render web pages, which implement all current and expected web standards.
Latest Firefox features include:
Choose your color to personalize your experience.
Picture-in-picture features allow video to pop out of the browser window so you can stream and multitask.
An additional layer of security enhances your security and DNS over HTTPS (DoH) helps prevent Internet service providers from selling your data.
Performance and Compatibility
| | | |
| --- | --- | --- |
| Performance and Compatibility | Edge | Firefox |
| Fast browser speed | Yes | Yes |
| A huge library of extensions | Yes | Yes |
| Is it Chromium-based | Yes | No |
| Available for free download | Yes | Yes |
| Do users get regular updates | Yes | Yes |
As Microsoft Edge has moved to a processor-intensive Chromium-based platform, you can expect it to run slightly faster, even if you have multiple programs running at once. However, with the Chromium platform comes a huge library of extensions as well as a worthy level of UI customization that Edge didn't have before moving to Chromium.
Mozilla Firefox is also a fast and open-source browser, which means people can customize their browsing sessions in every way possible. It also allows the everyday user several different ways to customize the UI by applying different colors, themes, and toolbar configurations. Since this browser has always been open-source, it has a large number of dedicated developers who have created a vast library of extensions and browser add-ons.
Security and Privacy
| | | |
| --- | --- | --- |
| Security and Privacy | Edge | Firefox |
| Private Browsing mode | Yes | Yes |
| Blocks all social trackers | Yes | Yes |
| Blocks crypto mining scripts | Yes | Yes |
| Blocks third-party tracking cookies by default | Yes | Yes |
| An extra layer of security to keep your data safe | Yes | Yes |
Mircosoft Edge is integrated into Windows 10 and the newly launched Windows 11 platform and runs in a sandbox environment. This means it isolates programs and prevents all malicious attacks and programs from spying on your PC. Furthermore, it has an in-built innovative SmartScreen that checks the security level of the websites you visit and blocks all suspicious sites or malicious sites that can harm your system.
Additionally, to enhance users' privacy, the Edge browser allows and option to use a PIN with biometrics or Windows Hello instead of a password for online authentication.
Mozilla Firefox, browser has been incorporated with all the necessary security features and capabilities to protect the privacy and security of its users. This browser has put in a lot of security functions to ensure that your data is secure. Also, with advanced tracking protection now by default, they block 2000+ trackers automatically and instantly.
Basically, these trackers are those little bits of code that try to piece together what you're doing across multiple Internet sites to create a holistic and comprehensive picture of who you are. Because some browsers Compromise your privacy to target only the better ads.
In your privacy protection settings in Firefox, you see the trackers and cookies that pages have tried to leave, and how many they have blocked for you.
In Firefox, the web browser Private Browsing Mode automatically obliterates your browsing history information such as cookies, and passwords if the user wishes to make their browsing sessions private, leaving no footprints after closing the session.
Edge, on the other hand, actually records browsing history in its own private mode called "InPrivate." It's thus a relatively easy task for someone else to recreate your full browsing history, whether your browsing is regular or in-between Done in private mode.
In our security review, both the Microsoft Edge vs Firefox browsers are pretty much the same in terms of data encryption. However, if transparency and online privacy are important to you, then clearly the Edge browser is a better option here.
Features and Extensions
| | | |
| --- | --- | --- |
| Features and Extensions | Edge | Firefox |
| Text to speech | Yes | Yes |
| Search engine options | Yes | Yes |
| Automatically fills out forms | Yes | Yes |
| In-browser screenshot tool | Yes | Yes |
| Web extensions/Add-ons | Yes | Yes |
Out of the box, the classic Firefox and new Edge browsers have more features and integrations built into the browser and are readily available on download for free from their official web portal. And while there are a huge number of extensions and add-ons available in both browsers, Edge's compatibility with Google's Chromium platform gives it an advantage in terms of sheer numbers because after all it is powered by Microsoft.
Mozilla Firefox has a scrolling tab interface, which keeps tab information easily viewable and scrolls them horizontally instead of simply shrinking them to favicon size. Plus, whenever you click to open a new tab, their Pocket feature suggests relevant posts or articles and related content for you. Additionally, with Pocket, you can save articles, videos, and other content to read later.
Portability
| | | |
| --- | --- | --- |
| Portability | Edge | Firefox |
| Syncs with mobile | Yes | Yes |
| Mobile OS availability | Yes | Yes |
| OS availability | Yes | Yes |
| Primary password | Yes | Yes |
| Password management | Yes | Yes |
Microsoft has learned a lot from the downfall of its Internet Explorer due to its limitation and lack of availability across platforms. But in the case of Edge, it is easily available on Android, iOS, macOS, Windows, and soon Linux.
If we talk about Firefox, it has been available for years on Android, iOS, macOS, Linux and Windows. And as you'd expect from any contemporary browser, both Firefox and Edge allow you to log in with a free account and sync data like passwords, bookmarks, browsing history, and open tabs between your computer, tablet, and phone. give. Plus, both of them allow you to easily sync across platforms as well.
Utility
| | | |
| --- | --- | --- |
| Utility | Edge | Firefox |
| Spell checking | Yes | Yes |
| Tab browsing | Yes | Yes |
| Reader mode | Yes | Yes |
| Autoplay blocking | Yes | Yes |
| Bookmark manager | Yes | Yes |
Both Firefox and Edge web browsers offer better reading modes that really help the user to read longer texts. With the Firefox browser, you simply tap on the small icon in the search bar and the browser removes all unnecessary elements and presents you with a neat-looking article. While in Edge, you can click on the little book icon to get a clean, easy-to-read page.
Firefox also includes plenty of useful built-in features by default such as a built-in screenshot tool, advanced tracking protection, large file sending, and more.
Design
| | | |
| --- | --- | --- |
| Design | Edge | Firefox |
| Theme customization | Yes | Yes |
| Simple interface | Yes | Yes |
| Easy to use interface | Yes | Yes |
| Modern Look | Yes | No |
| Choose your color and personalize your experience | Yes | Yes |
The Edge browser has some nice-looking colorful UI features, such as their tab previews that can make it easier for you to find the right open tabs when you have a lot of them open. It also includes another helpful tab-related feature, so you can set aside any active tabs you're not using but don't want to close.
Microsoft Edge vs. Firefox: Default Search Engine
When it comes to search queries, the default search engine is different for both browsers. Firefox browser has Google as its default search engine, while Edge has Microsoft's Bing. However, you can set your preferred search engine if you wish.
Final Assessment: Microsoft Edge Vs Firefox
Microsoft Edge, after being relaunched and running on Chromium, has been greatly improved as per the needs of the users and is also equipped with many new functionalities and features. On the other hand, because Firefox's parent company is Mozilla, a non-profit organization dedicated to Internet privacy and freedom, it has a different set of priorities when it comes to users' data. Firefox is also a widely used web browser that has been providing its services for a long time.
The bottom line in this Edge vs Firefox comparison review is that we suggest using Microsoft Edge. Because ultimately the best browser for you will be the one that best suits your needs with extension support, speed, browser customization, security, and privacy. Although Firefox is still a good browser, it is up to you which one you prefer as per your requirement.
It is our final assessment that Microsoft Edge and Firefox are still a better choice for most users after Chrome, based not only on functionality but more importantly on their transparency in how they collect user data.
The growing use of the Microsoft Edge browser is on the verge of overtaking Safari (Apple) as the world's second most popular desktop browser, and could soon achieve its goal if it continues to grow at the current pace.
Also Read | What is a cloud server?