Hostinger Hosting Plans Review
It established in 2004 in LITHUANIA, Kaunas as a "Hosting Media" and Rename the brand as HOSTINGER in 2011. There are several hosting companies in the market but Hostinger is the standalone web hosting company that offers premium features at a very affordable price.
Hostinger is the best web hosting & Domain Name registrar for beginners because of a cheap hosting plan with quality service. It is the fastest-growing web hosting company in the world. This web hosting uses futuristic Cloud hosting technology and provides web hosting with FTP, PHP, and MySQL.
Hostinger and its subsidiaries have more than 29 million users across 178 countries. Basically, it is the parent company of Weblink, Niagahoster, 000Webhost, and Hosting24. [Hosting India]
Hostinger International's headquarters are located in Kaunas, (Kaunas County) Lithuania(country).
Hostinger Data Centres Locations
It has 7 advanced data centers and servers are deployed in different countries:
Singapore
United States
United Kingdom
Netherlands
Brazil
Lithuania
Indonesia
Hostinger Pros
Good Speed
Cheapest Shared Web Hosting
More than 29 Million Users in 178 countries
24/7 Live Chat
UPTIME: 99.95% average
SPEED: 350ms average
30 Days Money back guarantee
Multilingual customer support 24/7
FREE Internet Domain for 1 Year
Easy to Use Interface
Very Good for Beginner's
Free SSL Certificate
Custom Email Account
Lite Speed Cache
WordPress Acceleration
MySQL Databases
Cloudflare Protected Name servers
Github Integration
DNS Management
Accepts Bitcoin
Cheap Domain Registration
Popular Website Builder
Tutorials for Beginners
One-click WordPress Installation
Great Value for Money
Hostinger Cons
Limited response time for live chat support
No Phone Support
You have to pay separately for daily backup but you get weekly backup
Uptime little bit fluctuate sometimes outside US and UK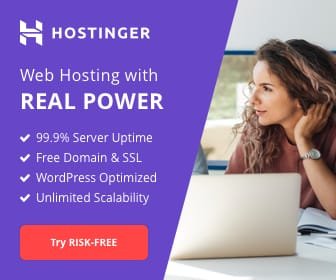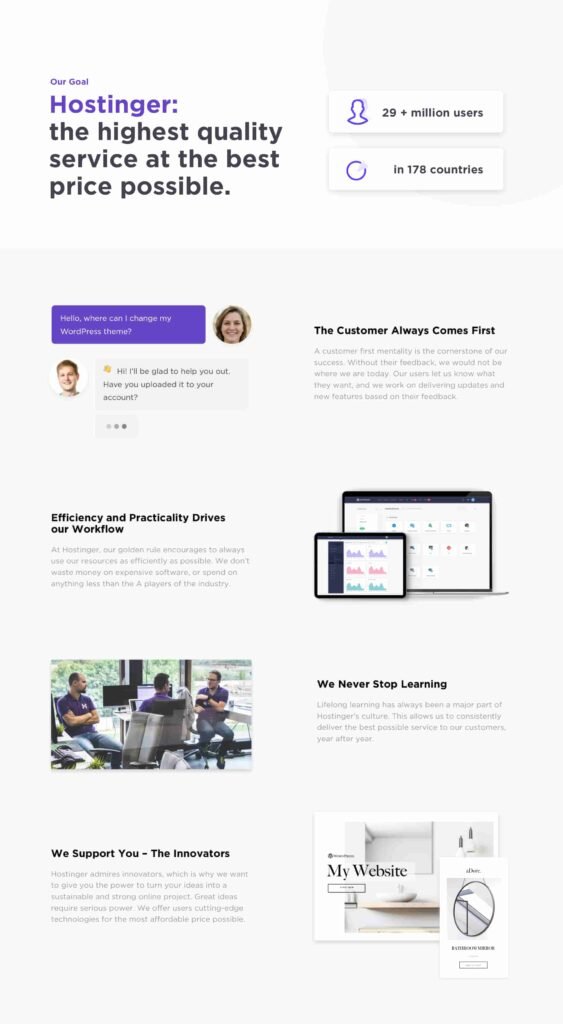 Moreover, Hostinger consistently delivering the best reliable service to its users over the years. To ensure 100% customer satisfaction everyone working at Hostinger HQ spends at least one-day per-month working with the Customer Success department to better understand the customer's needs and develop the brand accordingly.
21 Reasons Why Hostinger Is The Right Hosting for you!
1. 99.9% Server Uptime!
Good uptime is necessary for every website and the good thing is Hostinger guarantee 99.9% server uptime which makes our website really fast. So far, most of the customers are happy with Hostinger's server uptime.
Overall, the company server uptime is really impressive and enough for small as well as large websites.
2. Optimized for WordPress
All the web hosting plans come with the latest version of CMS WordPress as a result users get the fastest loading speed. One-click WordPress installation makes your job very easy.
3. Very Easy for Beginners
The web hosting H panel is highly functional and easy to use for beginners. Hostinger's user-friendly interface helps you to manage all hosting activities easily.
4. Easy to setup
Getting your website live is as simple as a click of a button. If you are newbies, it's very simple to setup and creates a website because the control panel includes large icons that are easy to use for everyone.
5. Cheapest Shared Web Hosting
Hostinger web hosting is one of the cheapest shared web hosting service providers on the market today.
6. 24/7 Live Chat & Multilingual Customer Support
It's nice to see that Hostinger 24/7 Chat is very simple, easy, and fast because their instructions were easy to follow. The company also offers a multilingual customer support team.
7. FREE Domain
You will also get Hostinger Domain, its first-year free internet domain. It is really helpful for beginners who have limited resources at the initial stage.
8. Unlimited Scalability
The Hosting company offers an unlimited number of websites and email accounts. You can easily scale up your resources whenever traffic grows and you need to scale it.
9. Free SSL Certificate
You will get FREE SSL with Hostinger web hosting. Basically, Secure Sockets Layer (SSL) is a digital certificate that provides authentication for a website and enables an encrypted connection.
10. More than 29 Million User in 178 countries
Currently, Hostinger has more than 29 million users in 178 countries and the good thing is its customer base is continuously growing.
11. Easy to Use Interface
A Control panel is a popular tool used to manage your hosting. Here, You can do all types of things for instance manage your domain names, install applications, create and manage email accounts, upload website files, etc.
12. 30 Days Money back guarantee
30 days Money back guarantee really a good offer if someone doesn't satisfy the service of the web host company. Other hosting providers also offer you this period, at a minimum, to change your mind and get your money back.
If you're unsatisfied with your Hostinger hosting services, you can get your money refunded within 30 days of signing up.
13. Popular Website Builder
All the easy website builder are available on Hostinger like WordPress, Joomla, Drupal, etc. CMS systems like WordPress, Joomla shows almost a 10x improvement in loading times with cache enabled.
14. Highest Quality Service at the Best Price
This web hosting company provides the highest quality service at the best price since 2004.
15. Tutorials for Beginners
However, Hostinger has knowledge base tutorials for beginners on their official website and it helps a lot to sort out the problem.
16. Cloudflare Protected Name servers
Furthermore, Cloudflare is a content delivery network, it helps to increase the website's loading speed at the same time also protects it from DDoS Attacks and unauthorized intrusions.
17. SPEED: 350ms average
Hostinger delivers really fast speed the average response time of their server is 43 milliseconds, and the average loading time between 300-350 milliseconds, which is very good.
18. Cheap Domain Registration
You will find great Domains with the Hostinger Free Domain Search tool and the domain checker helps you to find the perfect domain for you. After that, you can easily Register your domain on hostinger at a very cheap price.
19. UPTIME: 99.95% average
Usually, we expect web hosting company deliver an average of 99.9% uptime and the good thing is hostinger is very close to this range.
20. Low introductory price
If we compare the price with other web hosting, Hostinger plans are the lowest in the market. At the same time, you will get awesome features at the lowest price.
21. Fast & Secure web hosting
All data on Hostinger servers are protected by multiple levels of fail-safes, RAID-10, daily, or weekly backups.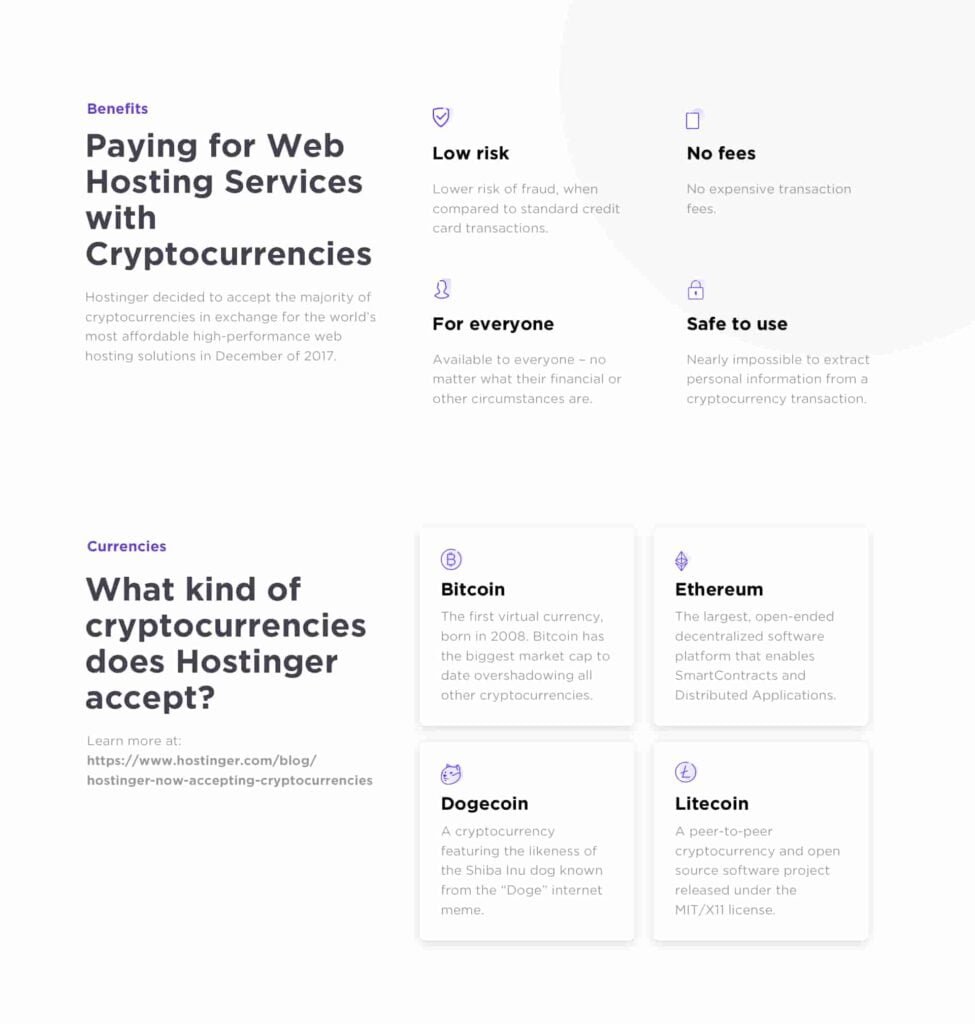 Hostinger Hosting Plans
Web hosting offers you so many options, their hosting plans are divided into three categories.
Shared Hosting
VPS Hosting
Cloud Hosting
Here is the detailed analysis of what these plans include:
Shared Hosting
Hostinger web hosting has three shared hosting plans
1. Single Shared Hosting (Ideal for beginners)
Starting at $0.99 per month (renews at $2.99/m)
Hosting for 1 website
1 Email Account
10 GB SSD Storage
Free SSL (11.99$ value)
100 GB Bandwidth
2 Database
Managed WordPress
WordPress Acceleration
30 Days Money Back Guarantee
GIT Access
Cloudflare Protected Nameservers
24/7/365 Support
99.9% Uptime Guarantee
DNS Management
Access Manager
2 Subdomains
1 FTP Account
2 Cronjobs
2. Premium Shared Hosting
(Perfect for Personal Websites)
Starting at $2.59 per month (renews at $4.99/m)
Hosting for up to 100 Websites
Free up to 100 Email Accounts
20 GB SSD Storage
Free SSL (11.99$ value)
Unlimited Bandwidth
Free Domain (8.99$ value)
Managed WordPress
WordPress Acceleration
30 Days Money Back Guarantee
Unlimited Databases
GIT Access
SSH Access
Cloudflare Protected Nameservers
24/7/365 Support
DNS Management
Access Manager
99.9% Uptime Guarantee
100 Subdomains
Weekly Backups
Unlimited FTP Accounts
Unlimited Cronjobs
3. Business Shared Hosting
(Optimized for small business)
Starting at $3.99 per month (renew at $8.99/m)
100 GB SSD Storage
Hosting for up to 100 Websites
Unlimited Bandwidth
Free SSL (11.99$ value)
Free Domain (8.99$ value)
Managed WordPress
WordPress Acceleration
Free up to 100 Email Accounts
30 Days Money Back Guarantee
Unlimited Databases
GIT Access
SSH Access
DNS Management
Daily Backups (11.40$ value/yr)
Free CDN (9.95$ value)
Cloudflare Protected Nameservers
24/7/365 Support
99.9% Uptime Guarantee
Access Manager
100 Subdomains
Unlimited FTP Account
Unlimited Cronjobs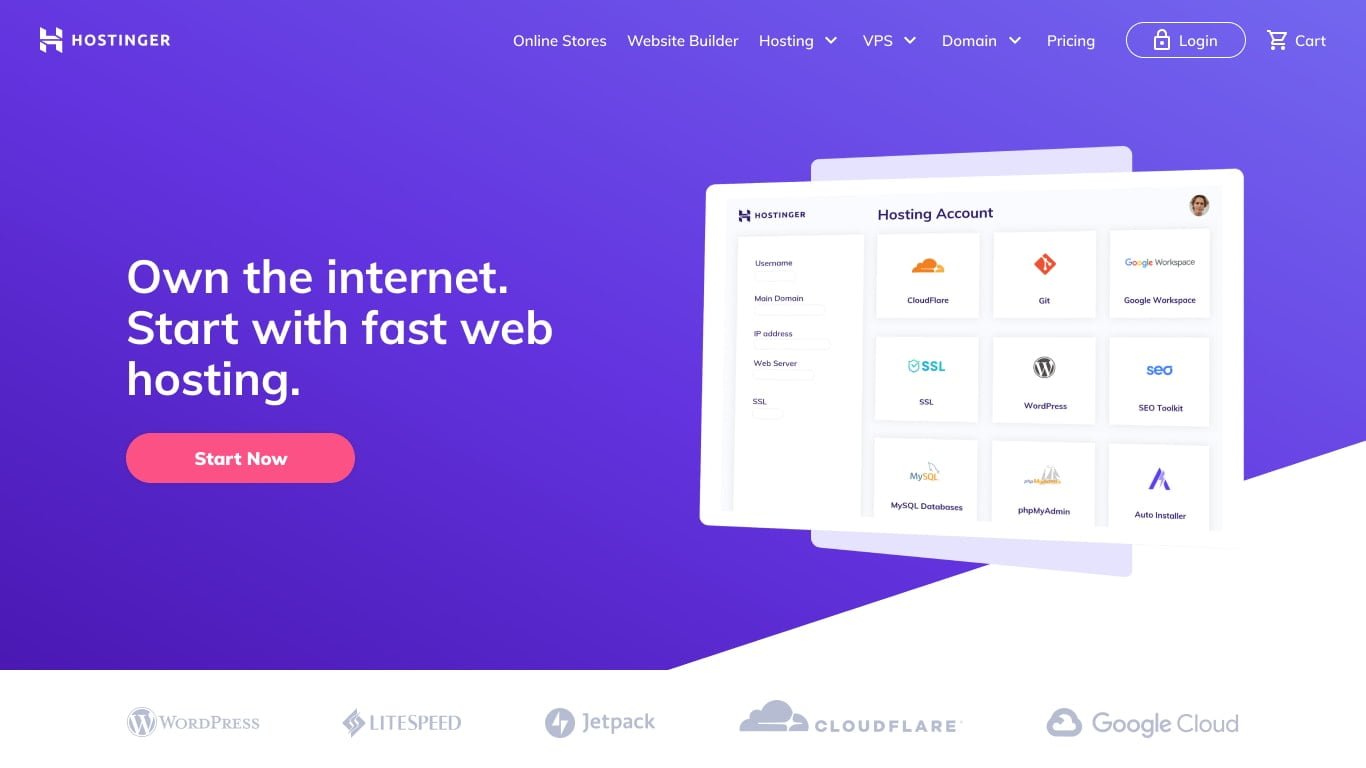 Key Features:
Free SSL Certificate
LiteSpeed Cache
WordPress Acceleration (LSCWP)
Cloudflare Protected Nameservers
Github Integration
24/7/365 Support
99.9% Uptime Guarantee
DNS Management
Access Manager
Daily/Weekly Backups
SSH Access
Unlimited MySQL Databases
Unlimited FTP Accounts
Useful For:
Beginners
Personal Blog
professional Blogger
Affiliate marketers
Small and medium businesses
Finally, Do We Recommend HOSTINGER Web Hosting?
YES, Of course, because of the following reasons:
99.9% Uptime Guarantee
Affordable Prices for high-quality features
Extremely Fast Servers
Multilingual 24/7 Customer Support (20+ languages)
Cloud hosting plans powered by Google Cloud
1- Click Installer
PHP 7.4 Live on all servers
Optimized for WordPress/ Onboarding Flow
Extra Security with 2- Factor Authentication
30-day Money-Back Guarantee
Hostinger has so many awesome features that are available at the best possible price. The company provides a 99.9% Uptime Guarantee & Great Speed.
The hosting company also offers a 30-day money-back guarantee if you're unsatisfied or unhappy with their service.
If you are looking for Value For Money, Hostinger is the Right hosting for you. If you need any help their customer support team is very responsive and user-friendly.

---
---
---